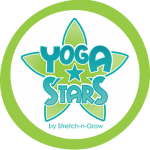 STRETCHING LITTLE BODIES
& GROWING STRONG MINDS
Yoga Stars helps kids channel positive energy by creating a space to practice mindfulness, strength, and breathing techniques.
Yoga Stars 5 Points of Success:
With our engaging weekly sessions, our Yoga Stars explore simple yoga poses with songs, props, and stories. Our creative curriculum will have your Yoga Stars increasing their endurance, concentration, and confidence!